July 16th, 2013
Gorgeous handbags from DELVAUX for some fantasy shopping. The best material and the impeccable craftsmanship.
DELVAUX Tempête MM $3,650. Box calfskin leather structured handbag with top handle, clip closure and two side straps that slide through back of bag. Triple perforated brass hardware allows for a two position closure.
DELVAUX Heure Exquise $3,600. Glazed lizard leather envelope clutch with magnetic snap-close front flap.
DELVAUX Brillant East/West $5,250. Grained Sellier leather flap front handbag with rolled leather top handle and distinctive polished gold-tone buckle closure.
DELVAUX President $3,780. Smooth, supple Cabas leather double-zip top briefcase with flat self top handles, exterior zip pocket and two external straps by which a newspaper or magazine can be carried. Arizona leather-lined interior with a large, flat snap pocket ideal for A4 documents or laptop storage and transport. Top zip and all other hardware finished in brushed palladium.
DELVAUX Givry $2,900. Santiag nubuck flap front shoulder bag with adjustable shoulder strap and stylized "D" buckle with magnetized leather loop closure.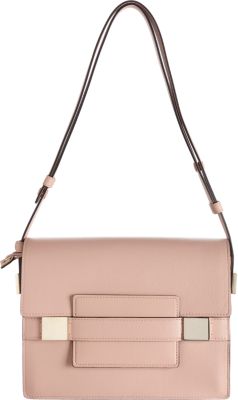 DELVAUX Madame PM $3,500. Smooth Polo leather tab close shoulder bag with polished gold-tone hardware. Leather shoulder strap can be worn long or doubled with snaps. Smooth leather lined interior with zipper pocket.
DELVAUX Brillant Mini $3,290
Filed under
Bags
|
Comment (0)